Our products : steel industrial buildings
Matsul sells and mounts Frisomat hangars in South Brazil. The Galpão Express hangars are pre fabricated from galvanised steel and are produced in Brazil with European technology. All are high quality, modular, extensible at any moment and demountable. Reliable and at a fixed price. Ask a free quote now.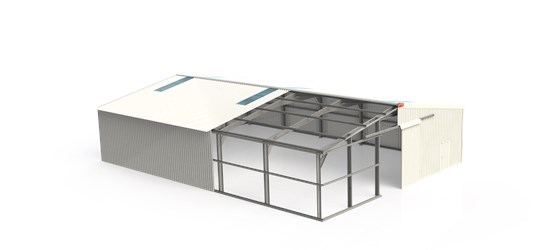 traditional barn with saddle roof (10° slope)
standard ventilated ridge
modular structure
5 widths to choose: 8, 10, 12, 15, 16m
4 heights to choose: 3, 4, 5 and some cases 6m
length starting from 13m and unlimited extensible
thermal insulation possible
gutters for rain water recuperation : option without extra cost
doors, gates, windows, ventilation possible in sidewall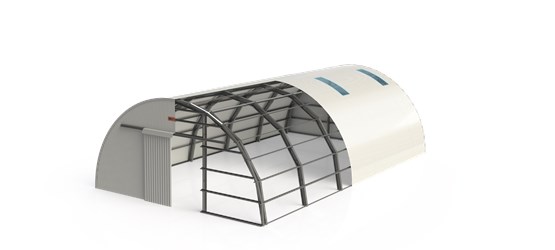 arched steel hangar with elegant lines
robust and economical
modular structure
6 widths to choose : 7,8 8,6 12 15 18 20m
3 heights to choose : 3,8m 5,5m 6,6m
length starting from 13m and always expandable
very good cost/benefit rate
extra large doors possible to hangar airplanes or large farm equipment
extra ventilation grids possible
---
These are galpão express products, what does this mean ?
Frisomat launched in 2014 the GALPAO EXPRESS concept for the Brazilian market. These warehouses are 100% made in Brazil to avoid high import taxes and delays at the customs. The structure is made of galvanized steel (275gr zinc/m²) and sheeting is made from pre-painted galvanised steel. Painted in white (RAL 9003) to maximal reflect the sun's heat. Sliding doors and translucent sheets are standard. Options are wider doors, thermal insulation and extra ventilation.
The two types here are :
The Delta+ a traditional saddle roof with a 10° slope. (18%)
The Omega+ which is a curved type of design
All galpão express buildings have these features :
fast automated production
produced entirely in Brazil
available immediately from stock
structure 100% galvanised HSS steel
cladding (walls + roof) with

pre

-

painted

galvanised sheeting

sliding gate and translucent sheets included

lightweight, compact and easy to transport
simple foundations needed
no additional processing needed on site: just bolting together
fast and easy assembly
modular and ready to extend
possible to disassemble and reuse
resistant, calculated conform ABNT norms, incl. ART
BNDES, FINAME and PROGER finance possible